Meeting Kima @dafiorettiforestschoolfordogs has been a life changing experience for Pip, our terrier cross, and our whole family. We took Pip to Kima's Forest School in Wales for help with some reactive behaviour and general over excitement and we could not have imagined the love, attention and help that Pip would receive throughout the two month period. From the moment we dropped Pip off at Kima's beautiful home we were reassured that Pip had settled into a wonderful routine of forest pack walks, a cosy bed, fresh food and even massages, with regular updates, insights and advice. Kima has a passionate and instinctive understanding of dogs (and people) and has helped us all to understand what Pip's needs as a sensitive dog. Pip returned to us calmer and happier, more responsive and obedient, she can even be in the same room as the hoover and sit happily whilst she has her nails clipped! She will now walk happily on a lead with no pulling (with all members of the family) and we all feel so much more confident taking her to places that we would have avoided in the past. We are so grateful to Kima for transforming our relationship with Pip, she is absolutely one in a million and our only sadness is that we don't live closer! We feel incredibly lucky to have Kima in our lives and can't recommend her highly enough.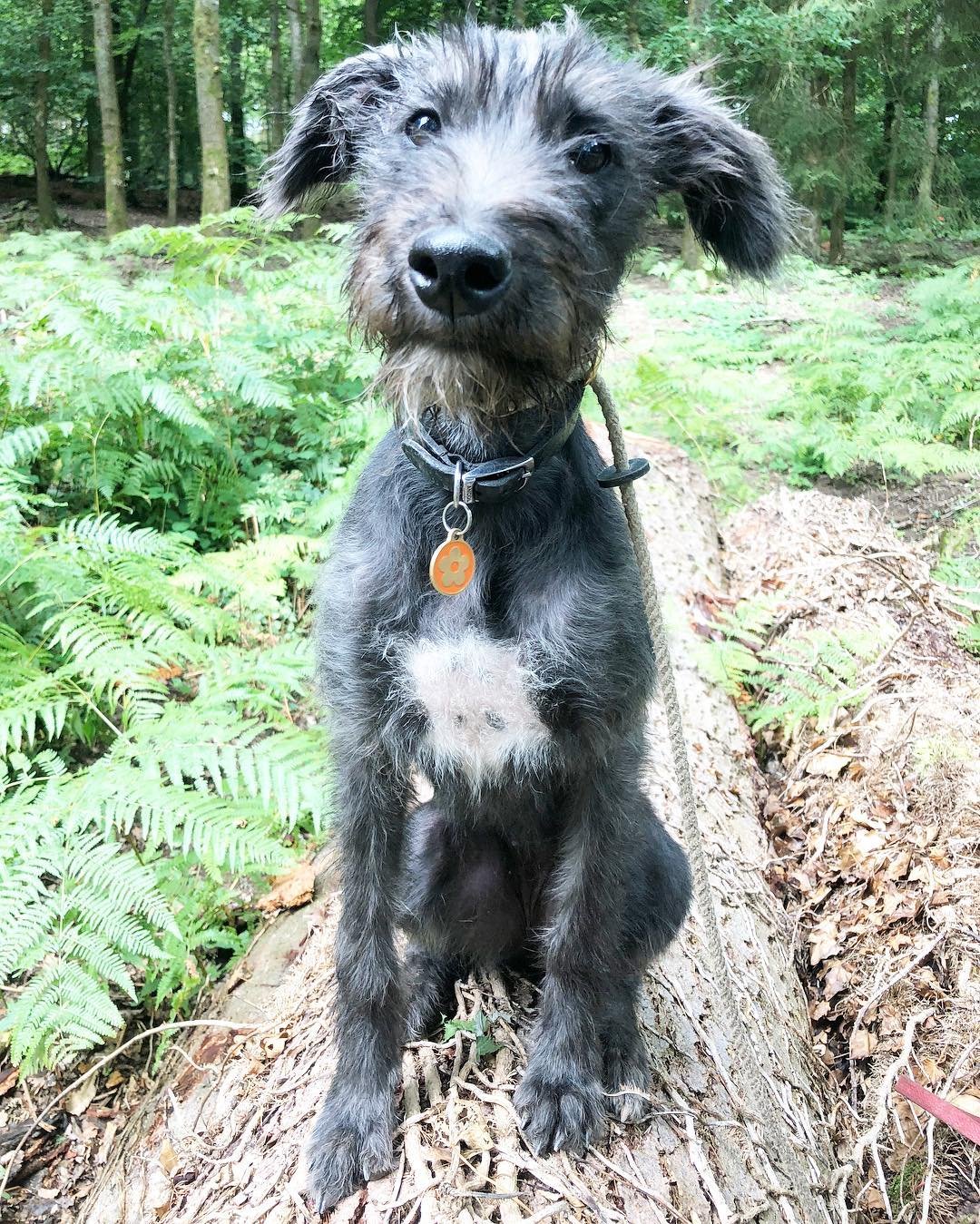 Tarn had the pleasure of staying for two weeks with Kima as a young puppy earlier this year. We knew in advance that this time was to be special for her, being able to spend quality time with a number of other dogs in a pack, and a time to experience a kind of mentoring from the other older dogs.

She came back to us extremely calm and settled. She had been nourished in every way and she glowed with health. She was full.

Tarn is a magical creature and Kima has been instrumental in enabling us to connect with her magic. The way Kima connects, communicates and instructs the dogs non-verbally is really quite special. Inspiring. Something I had never experienced before.

Thank you from us and from Tarn !
Meeting Kima has been a revelation. Her calm, patient, loving yet firm approach to training dogs has to be experienced. Our young collie cross puppy has benefited hugely from twice weekly visits and we will continue to take her there as she loves it so much, learning to interact with other dogs and people whilst still having fun. Plus great advice on nutrition. I can't recommend the Da Fioretti School for Dogs highly enough.
The family I chose look after me very well. They have always had Jack Russell terriers, so I decided they were ideal for me, and stared at them until they picked me out from my sisters.However, I had a difficult upbringing, being separated from my mother rather young and kept in an outdoor shed with my sisters, so I was somewhat lacking in instinctive behavioural niceties. Well, I was rough, tough and very inclined to hysterical outbursts. I am also very intelligent, and was always getting into trouble! My people said I was impossible.
So they introduced me to Kima and I went to stay with her. What a difference it made!. After a while I began to realise it was much more fun not to be always in trouble, to meet and play with other dogs without becoming hysterical; to do what I was told and be thanked for it, to be a proper, trusted member of my family.
I've stopped shouting at strangers and jumping up at everyone. I enjoy sitting when I'm told, waiting my turn, coming when I'm called and then I get thanked for being good. Walks with my people are now a pleasure, and visiting towns with them can be great fun.
Occasionally I go to meet Kima, and go on one of her exciting dog walks, coming home very tired and happy. I think she has transformed my life.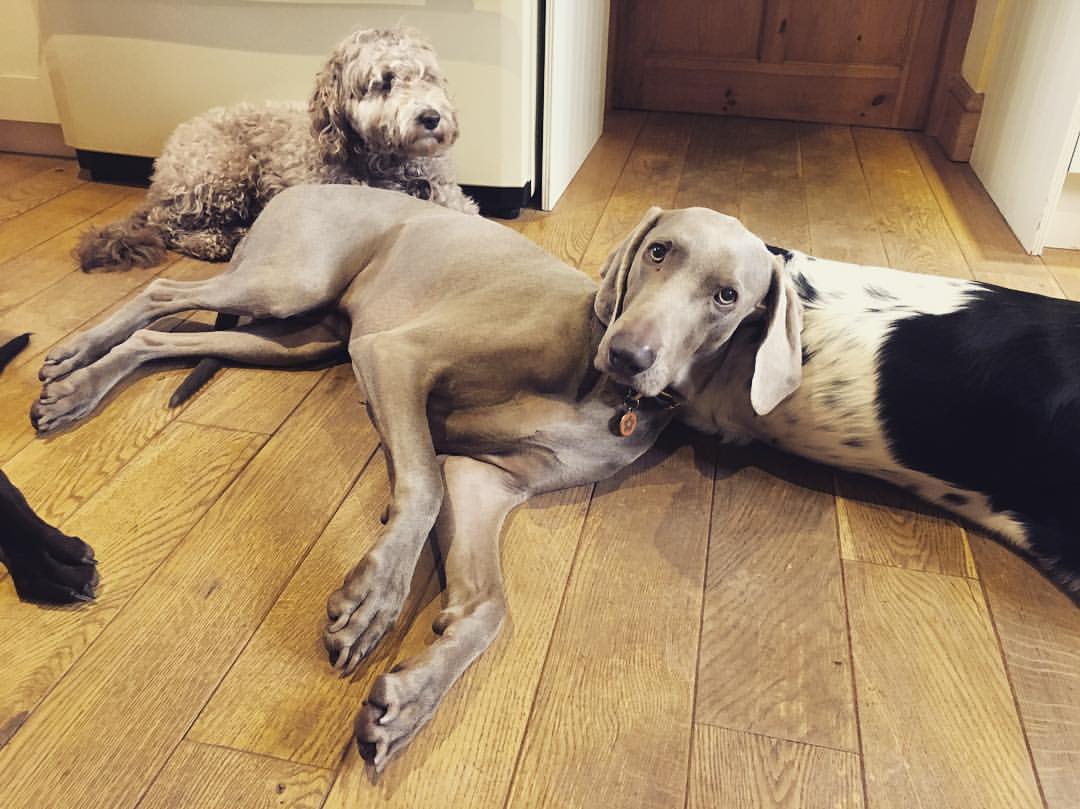 Lottie a two year old Labradoodle and Flynn, a nine month old Weimaraner. They both go regularly for days out with Kima and I couldn't ask for them to be in better hands, I trust her completely. Kima has an amazing way with dogs. She is strong, calm and very heart centred. She is so in tune with all dogs and has such a great understanding of who they are and what their needs are. She passes this knowledge on to me and it has really helped me to have a deeper relationship with both my dogs. I feel so supported and much more confident as a dog owner. I would definitely recommend her. Your dogs won't be safer or happier with anyone else. - Tiph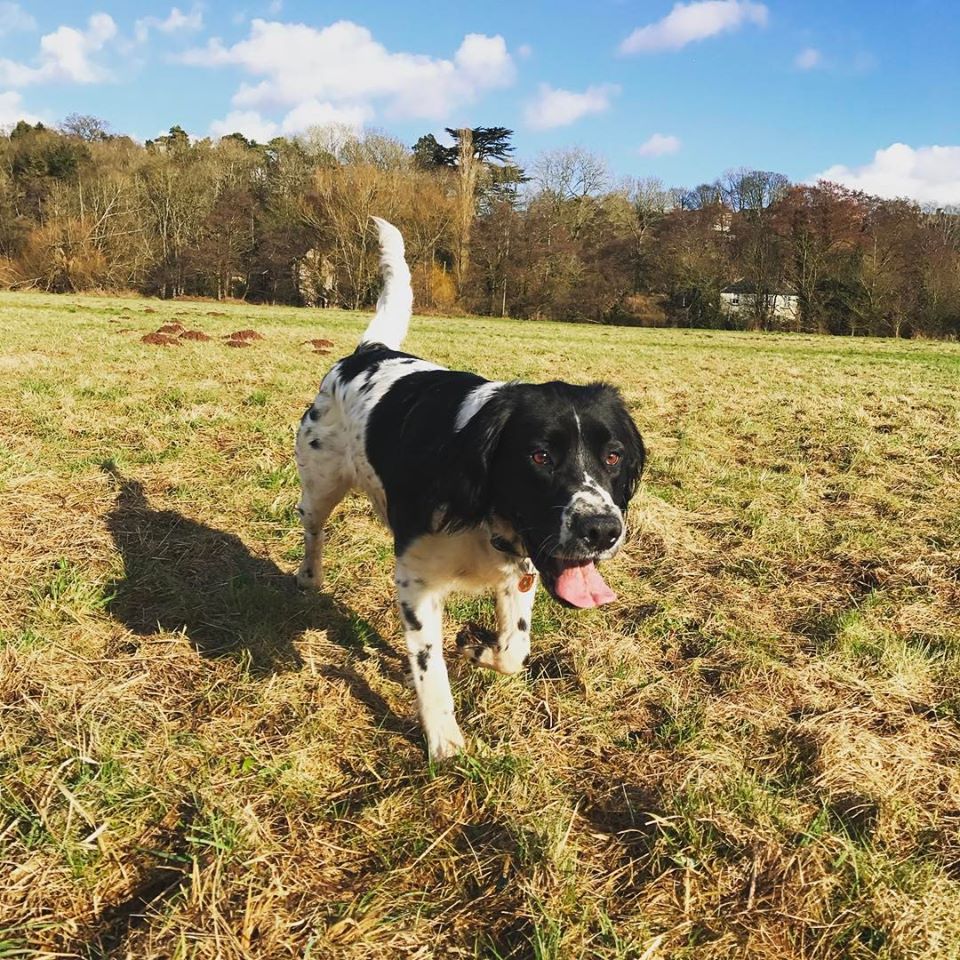 I have been sending Sophia to Kima over the last few months...the transformation is amazing...Sophia was a boisterous almost uncontrollable puppy but even after her first session she was calmer and more content. It's all down to Kima..her approach is calm and disciplined..Sophia is confident with her and the other dogs that share the pack walks. Now a few months on she is a pleasure to own..still lots to learn, but I know with guidance from Kima she will flourish. - Andy
I really didn't think I 'd ever feel easy leaving Stanley with anyone else, unless is was a high security prison! Stanley is a small terrier with tons of curiosity! Kima keeps Stanley safe, gives the dogs in her care a plenty of exercise where they socialize and play games with other dogs. If he is not well, Kima looks after him well. When he stays overnight, he gets to snuggle down with his friends, wrapped up in cosy blankets and even a dog massage! My dog, Stanley gets all the love and care he could wish for, and I can relax knowing he is safe and totally happy. - Louise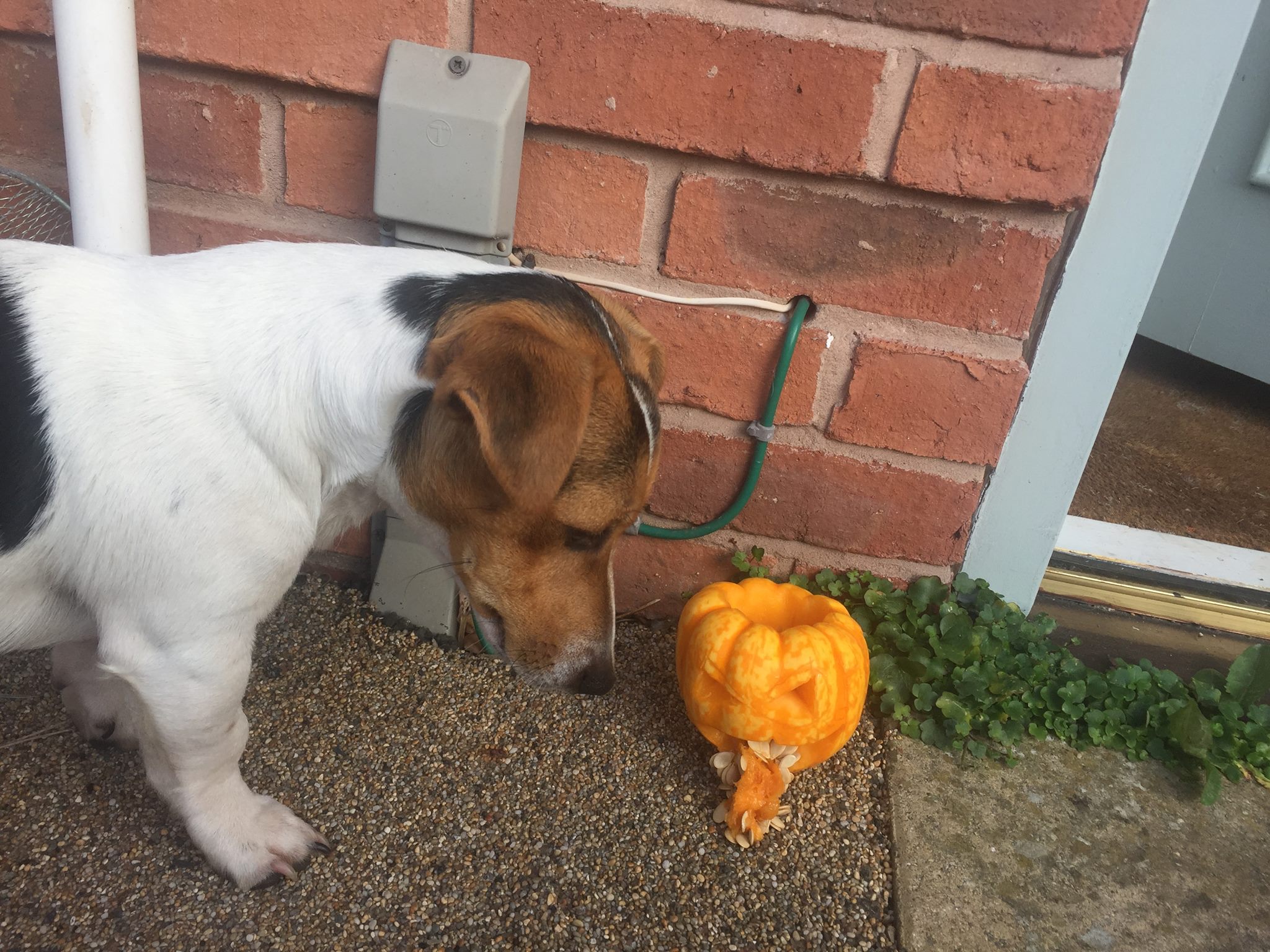 I have a rescue Jack Russell that went absolutely, frighteningly nuts when he saw another dog out walking. Kima had him for a day and he returned a completely different dog. I then had a one on one session with Kima and I was blown away by how she literally understood what his behaviour was about and what his triggers were. She was amazingly patient and encouraging with us both and he seemed to respond immediately with Kima's instructions. Kima is incredibly in tune with the dogs and really seems to speak their language. It is inspirational to be around her and dogs. Thank you Kima. :- Nicky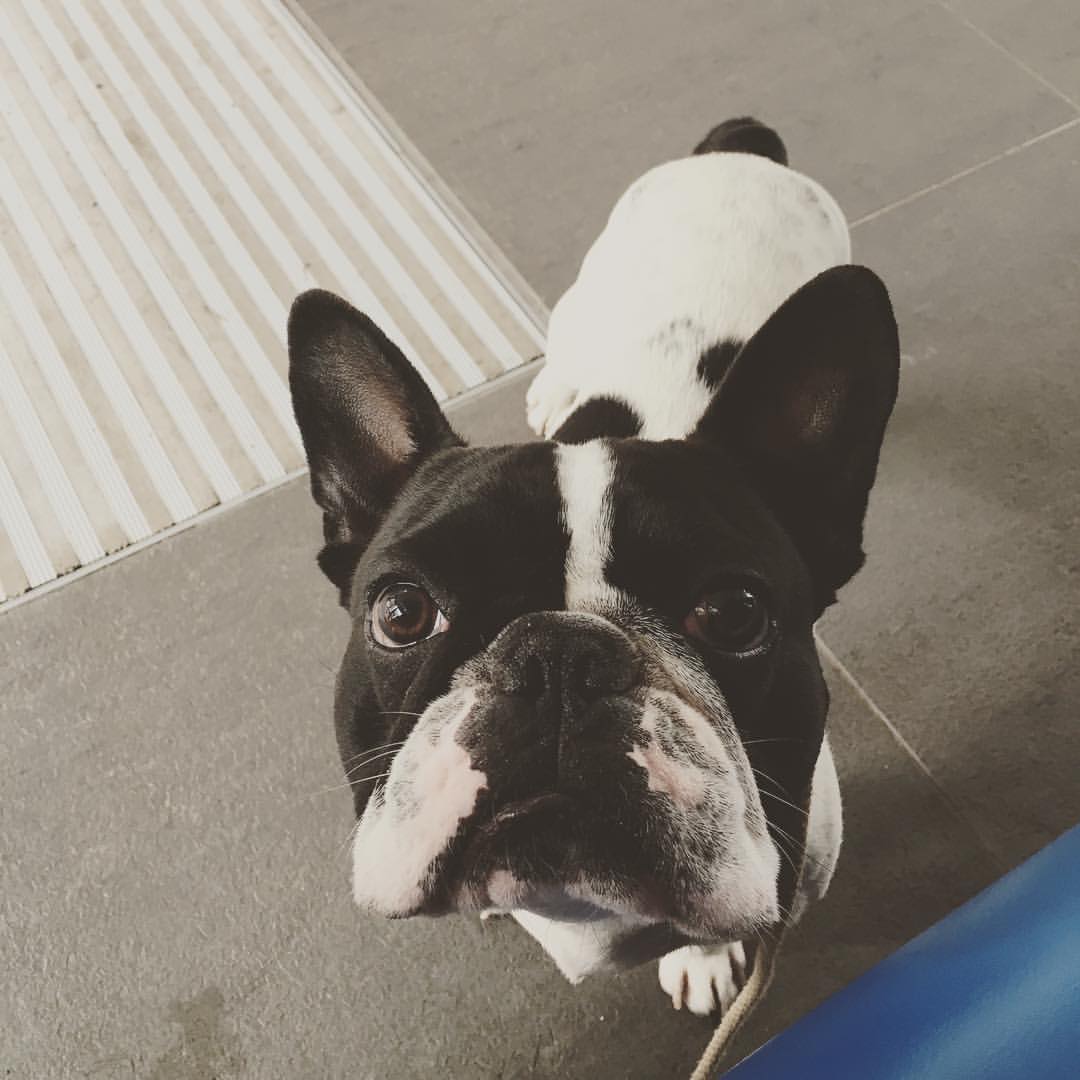 I always admired Kima's dedication, passion and holistic ethos for her work before she looked after our 14 month old French bulldog. He joined Kima's DOGGIE HOLIDAY IN COUNTRYSIDE pack. I cannot thank Kima enough for what she had done for him during our holiday. As hopeless guilty dog parents do, we searched so many options in dog walkers, dog hotels and kennels in London. Every option made us feel somehow uneasy. We found out some of them only take dogs out of kennels for less than a half hour a day. Why wouldn't you want your pup to hang around with the other happy dogs, go for couple hours walk in forests and well fed with wonderful treats like chunky juicy meat on bones, bone broth and doggie smoothie?! Kima also gave us frequent updates with a lot of pictures and messages which made us smile and feel assured he was doing ok. When we picked him up, we certainly felt he had changed and grown up just after two weeks. He was calmer and lost some bad habits also. If you want your dogs to be happy as you are on holiday, I highly recommend to send them to Da Fioretti Holistic Dog Walking. - Yuri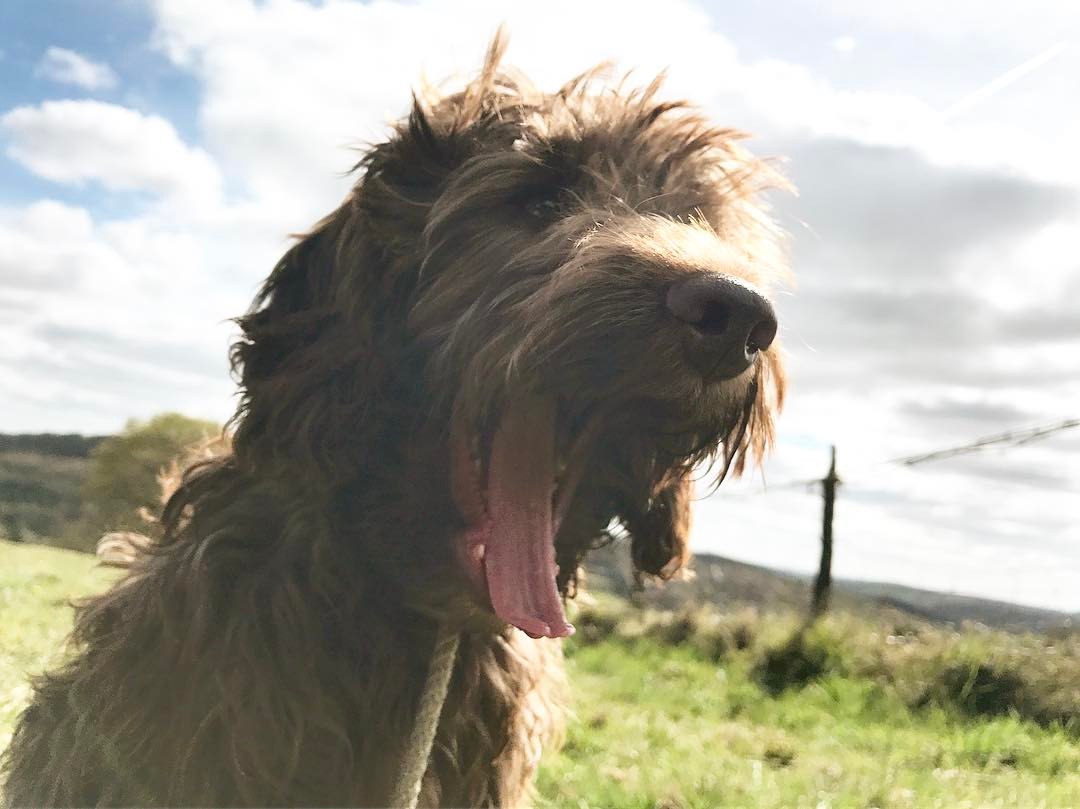 When we got a new puppy we wanted to make sure we gave her the best start and as our first puppy we quickly realised we had alot to learn. We came across Da Fioretti online and after meeting Kima we instantly knew our puppy Broni would be in safe hands. She has been training and walking with Kima for the last few months and absolutely loves her time with Kima. She comes home really happy and relaxed after her time learning and getting to play with other dogs. As well as training Broni, Kima has been the most amazing help to us too, always taking time to go through any tips and advice on all the things we come across with Broni every day. We can't recommend Kima enough. If you're looking for someone who truly loves and cares for dogs and is always happy to help, then look no further. The homemade treats on the website are also a huge hit too!! - Louise and Chris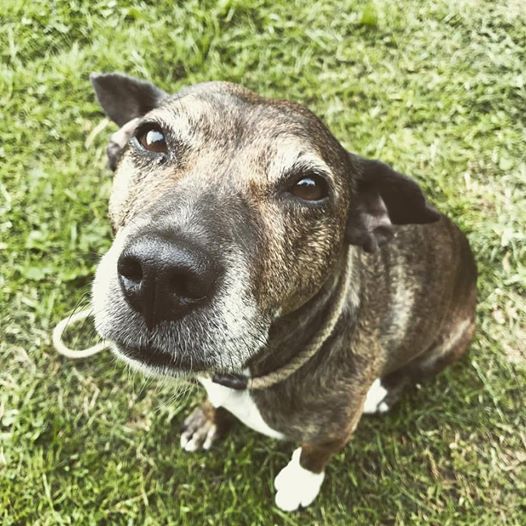 After moving from a busy suburb to rural Herefordshire, we found our dog became very unsettled. Her behaviour became unpredictable and hyperactive. The walk was not enjoyiable but stressful in case she misbehaved. Also our dog is mongrel mixed with Staffordshire bull terrier which people find scary when she gets stroppy and shouty with other dogs.
I contacted Kima for some advice and our dog spent one day with Kima. After that one day with Kima she returned SUPER CALM and I was amazed at the difference immediately. Kima was very supportive and clear on our dog's needs and what we should focus on. I'm very happy to say that it has now been two weeks and we have been doing as advised and our dog is much calmer, doesn't run straight out the back door when it is open to find cats, sheep or rabbits. Walking on a lead to my side and not pulling and best of all she is not growling at passing dogs. I feel she is much more settled herself and my confidence is increased so I am now enjoying my time with her and do not panic when I see another dog approaching us. I am really thankful to Kima to help build that reconnection with my dog and am loving walking with her and realised she just needed to feel safe. I am really looking forward to continuing helping my dog now with the advice of Kima and I can see its just going to get better. Thank you ! - Hayley
Kima will most certainly take your dog for an extraordinary walk, yet I would never refer to her a "dog walker". She is a soul searcher, and the influence of her calm leadership is almost immediately apparent in the dogs she cares for. Kima wants to know each dog deeply, and in doing so, allows the best to emerge from each dog she interacts with. She is patient, gentle, firm and fair. She is a good observer and listens to and respects her dogs, and reacts accordingly. In turn, the dogs have an obvious unquestionable respect for her; this is very apparent from seeing their willing obedience during her structured walks. Both Cece and Billy have spent extended time with Kima, and were welcomed into her household. She has always had excellent, and daily, communication with me about the dogs' activities and progress, and this is always accompanied by photos and video footage. Cece is a beautiful, strong, magnificent creature, but is very anxious, noise-sensitive, and demands a tremendous amount of patience and time- something that Kima seems only too willing to offer in order to help build Cece's confidence in the world. Billy, a rescue dog from Romania, is a happy guy, but had no structure in his life, and had some sensitivity to being touched and groomed on his back end when we first got him. Kima has spent extra time with him, gaining his trust, and building his confidence about being groomed, and showing him that it can, and should, be a pleasure! I would recommend Kima's dog services in any capacity, whether it be 1:1 training sessions, a weekly structured walk, or a longer stay. I must admit that after seeing my dogs playing together in the fields and streams of Wales with a pack of well-behaved, well-socialised dogs on a daily basis, I fear that they will be terribly disappointed when it is time to return home! Kima, you are irreplaceable- thank you! Lauren PS: The dogs go crazy for her homemade dog treats, and even Billy copes well with them as he has a delicate digestive system and can't eat most dogs treats.
Absolutely recommend to anyone. Kima is simply magic. She seems to be a dog whisperer and has an incredible understanding of dogs and is helped us have a calm and peaceful puppy. Our first session with her was a revelation and we went from what we thought was a bored puppy needing more stimulation, driving us a bit mad to a sleeping calm puppy that was just tired and needing direction from us.
He has boarded with her too when I work away. What more could a puppy want than a home full of comfy beds, walks in the woods and other dogs to play with and attention from her. He is so happy to see her, such a difference from my last dog who had to be sedated to go to kennels. I was so nervous the first time I left him when only 12 weeks old, but she messaged me photos all day to show he was ok! She has also worked on things with him such as grooming and bathing that he wasn't keen on us doing with him while he is with her. Now he is a little older, he goes on the regular pack walks each week. He adores his walks with Kima and his friends and I get some work done! We are also doing the 10 week obedience course with her. I get stopped in the street by people to comment on how well mannered my dog is and how amazing to have a dog sit, stay, come on command without the use of treats!
I can't recommend her highly enough, look at the videos on Instagram to see her pack walks and you'll see what I mean.
We feel extraordinarily lucky to have met Kima, whose work (and play) with our 6 year old Bedlington terrier (and us) has made a significant difference to the way Sybil behaves with us and towards other dogs, as well as the way we understand how to behave towards and around her in order for her to be a calmer and happier dog. Kima is thoughtful, positive, encouraging and supportive of Sybil and our relationship with her, and her ongoing support and advice helps us hugely. She has taken great care from day one to get to know Sybil and her particular needs, and feeds back to us what she discovers and what (and how) she helps Sybil achieve. Sybil seems to learn a great deal from two pack walks a week with Kima and always returns tired and happy, as well as more calm and attentive. We have been more than happy to entrust Sybil with Kima for long weekends when she has welcomed her into her home. Thank you Kima!
Harley (Our 9 month mini schnauzer) was entering his teenage stage and was becoming more and more unsettled and we were struggling with 'training' him. We found Kima through Instagram and was blown away by her calmness and understanding of the dogs in her care and the way they respected and listened to her.
After struggling for the first week's challenge we decided to let Kima take Harley on her forest walks for a few days. He's come back a completely different dog and her knowledge and understanding of him has helped enormously of how we can help him be the amazing dog that he is. He so much calmer and more attentive we still have more weeks of training to go. She provided us with plenty of updates, videos and advice.
I urge you to meet this woman and let her understand your dog in a calming gentle way. We can not thank her enough, even the cat seems happier! 😁

Da Fioretti looked after our 13 week old cockapoo puppy this week for two days. Kima kept me updated with photos and videos of how little Betty was getting on which was so reassuring. Betty was so happy and calm when she came home and slept really peacefully. Kima is a dog-whisperer. Watching footage of her walking with the pack was extraordinary and Betty clearly benefited enormously from the experience. I have already learnt so much from Kima in this short time and we are now booking for her puppy training programme. I cannot recommend Da Fioretti enough! I'm delighted we've found her.
Kima is great. Our Poppy is always happy to go with her on walks or to board - and always comes back so much better behaved. Kima is also very knowledgeable about dog behaviour and nutrition and herbs and natural remedies and always happy to help and advise. I can fully recommend her services!